Filming made easy
Nestled in the heart of the Canadian Prairies and the centre of North America, Big Sky Studios is a 187,000 sq. ft. film and television production facility designed to meet your every need.
Just 15 minutes from Winnipeg International Airport, 15 minutes from downtown, and 10 minutes from our exclusive equipment partner William F. Whites, the studio is perfectly placed to offer all the services of a major urban centre paired with easy access to rural filming spaces.
From experienced labour and generous tax credits, to a huge variety in architecture and locations nearby, Big Sky makes filming easy.
2
Two Levels of Creative Office Space for Production and Executive
3
Wardrobe with Laundry and dye
4
Mill and paint with certified paint booth
5
Set Dec/Props/Flex Space
6
Indoor park-like atrium with dining
7
Theatre and training room
8
Outdoor common courtyard
9
Ample parking and interior climate controlled loading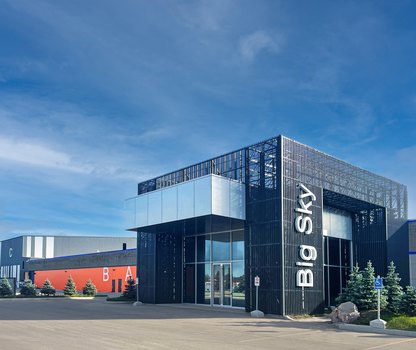 GET IN TOUCH
Got questions? Contact MICHAEL THOM
Email: michael@bigskystudios.ca
Phone: 204-330-7998